SAPOL Headquarters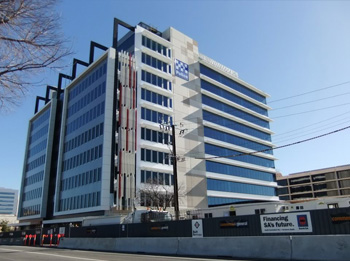 Cablelink took on this project to install Fibre and Copper Backbone cabling system as a "redundant loop" from the main server room to each communications room located on the 9 other floors, and a Category 6 Horizontal cabling system from every field outlet to the local communications Cabinet. There is a total of over 3600 outlets.
Two Construction companies managed this project separately one on the Base Build and the other on the Fit out which meant we had to coordinate multiple aspects of this project at the same time with different points of contact.
Our onsite team of Technicians successfully kept up with the building program despite huge pressure to meet completion dates. We are proud of our Technicians for their outstanding work ethic and standard even when under this kind of pressure.
Located in the CBD, the new state-of-the-art headquarters for South Australia Police (SAPOL) provides 12,000 square metres of office accommodation and basement car parking. This 10-storey building is occupied by more than 1,100 SAPOL employees.
The 40 metre high building is the biggest police-building project in SA's history to date.